Our Area Rug Cleaning Services
When your rug enters our area rug cleaning plant, there are a few services our company can offer to handle any needs related to the washing of your natural or synthetic fiber rug. Our full washing service Oriental Rug Cleaning Plant Jacksonville is a professional grade facility with all the proper tools and equipment needed to provide a high-quality rug washing service. We have spent many years perfecting our methods and accumulating the proper equipment to get the job done right. We really do treat each rug individually and understand the importance of personal sentiment that it may bring to the collector. We view rugs in the same light as an owner who sees their rugs as special works of art because thats exactly what they are, pieces of art.  When a customer brings us a rug that has been in their family for generations, we understand the love that the customer has for their precious family heirloom. Regardless of the services being performed or the type of rug being washed, we treat each rug with its own special circumstances along with great respect.
Our highly-trained technicians are educated to carry out a variety of services related to proper washing and drying of your rugs. Our specialty is the proper submersion washing of natural fiber or synthetic fiber rugs. The methods we implement during each washing process have been shaped to create a safe and thorough washing procedure. Our full area rug washing procedure has many basic steps and they are effective for cleaning synthetic and natural fiber rugs alike. One of the most important services we offer is a standard part of our washing process, the inspection. We fell proper identification of a rug is key to the success during the actual wash phase of the cleaning process.
When performing a rug inspection, we take our time to check the rug for a multitude of issues that could be preexisting, which could cause problems during the washing process. We will take many pictures of the rug before any major cleaning is started. One of our professional rug technicians will perform a simple visual inspection first. This portion of the inspection is quite simple and forward, check for any issues that are visible to the naked eye. This typically includes, rips, tears or holes in the rug. Fringe damage, fading or dye transfer issues are other problems that are commonly detected during the visual inspection, and when something major is identified, we will contact you the customer to inform them about the possible outcomes during the wash process. The inspection service is one of the most important steps in our cleaning process.
One of our most commonly performed services is Pet Odor Removal.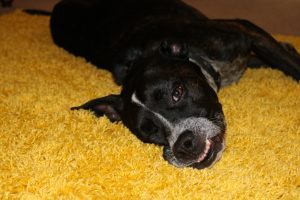 Pets have a tendency to use our rugs as peed pads. The idea is that pets prefer an absorbent surface, similar the the grass outside, to urinate on and an oriental rug is just that. We see and abundance of natural fiber and synthetic fiber rugs which are lightly or heavily affected with urine. This process involves a full submersion pre soak, prior to the actual rug washing procedure. This pre soak will break any crystalized urine salts back down to liquids, which can then be completely extracted from the rug. This process is highly effective and typically yields fantastic results. So highly effective that we have a 100% Pet Odor Removal Guarantee. The odor is removed entirely and stains will also tend to disappear.
We implement a thorough washing process that is safe for natural fiber rugs or synthetic rugs, and yields great results. We clean a variety of rug types and we have what we need for any material specific treatments. The more commonly cleaned natural fiber rugs are made of wool with a cotton foundation, with some others being silk and jute. Synthetic rugs can be made of nylon, polyester, olefin (polypropylene) or viscose. These area rugs come from all over the world, The term "Oriental Rug" is typically used to describe a high-end, natural fiber hand-knotted rug because most natural fiber rugs come from that specific region of the world. Rugs from China, India and the Middle East would all fall into that category.  This service includes a rug dusting, full immersion washing, agitation and centrifugal drying process.
Another service we provide for rugs we wash in our Plant is a fiber protectant. Once you have had your beloved area rug washed, it is always a great idea to add a protective coating that can help prolong the life of your rug. We use a particular rug protectant that has been time tested and proven to do its job as intended. When rug protectant is properly applied to a rug, it creates a protective coating between the rug's fibers and any contaminants that may come into contact with them. The results are very similar to RainX. If you have a pet accident, drink spill or track some unwanted grease onto the rug, the protectant will buy you the time needed to remove the contaminants before any permanent staining has been done.
We can provide our services to customers all across the Central and North Florida area. We have locations in Jacksonville, Tampa and Orlando that allow us to provide pickup and delivery services to customers spread out all across our large service area. Our friendly, knowledgeable technicians will notify you when they are en route to your home for your area rug cleaning service pickup appointment. That way you will not have to wait around for us, as our automated text gives you a 30min notification that we are on the way. When we arrive at your home, our area rug technicians will perform a short, visual in home inspection. At this time, the technician will also be verifying the measurements of your area rug. Once the short, in-home inspection is completed, our technician will go over any issues that may have been out of the ordinary and discuss those options with you. Once all information has been verified and discussed with you, our area rug technicians will then load your rolled up area rug into our service vehicle, then its on the way to our Area Rug Cleaning Jacksonville Plant for its washing.
Our area rug washing services typically take 7-14 days to complete, as our main focus is the quality of our service. Once your area rug is back in our plant, our professional oriental rug technicians will perform a much more in depth inspection. We will be taking many pictures of the front and back of the rug. If any areas of concern arise during the in-plant inspection, we will contact you to discuss prior to beginning the washing service. Once complete, we will contact you and set your delivery up. Your delivery will be similar to your pickup. You will receive a notification about 30 minutes or so prior to our rug technician's arrival. Upon arrival, our technician will either lay the rug down where it was picked up from, or can leave it bagged in a location of your choice. We will also provide you with a goody bag, loaded with, informational cards, spotter bottles, business cards and magnets.
We like to think that our attention to detail is what separates us from others. We pride ourselves on open communication with our customers, as well as keeping our customers informed throughout the entirety of your area rug cleaning! Our company will send you an email reminder the day before your pickup, which will include a variety of information that will help you to prepare for your scheduled pickup. You will receive a text notification when our rug technician is en route to your home for your pickup/delivery, that way there is no waiting around for us. This open line of communication will make your experience with our rug cleaning company Jacksonville second to none. We value each and every one of our customers and we do our absolute best to make sure every customer is completely satisfied!
Don't hesitate to call our office with any questions you may have! We do our absolute best to provide the best customer experience possible! Each member of our staff is friendly, helpful and ready to answer any questions you may have! Our abundance of five star reviews are not only a testament to our high quality cleaning service, but also a good reflection of the fantastic experience that our customers are subjected to! You can call us anytime at 904-900-4770 or email us at JacksonvilleRugCleaning@gmail.com and a member of our staff would be happy to help!