We at the Oriental Rug Cleaning Plant Jacksonville would like to bring you safe, clean, beautiful environment inside your home. When using protectant for your area rugs, which in turn make maintenance and vacuuming will be easier. Having protectant on your oriental rug also keeps spills from quickly penetrating into the rug, giving you more time to clean it. The stain protector will help you keep your home cleaner longer and your family safer, being that it helps repel unwanted soils and other breathing causing bacteria and germs. A way to explain protectant is like RainX. If you are familiar with the product you know how it repels water like magic from your windshield, this fiber protector acts in a similar way, repelling spill and soil from destroying your rug. If you're looking for an area rug cleaner near me, call today.
Don't you hate it when you walk in and see dirty stains in the high traffic areas?  This is due to the soils on the feet and shoes destroying he fibers. When you look closely you will see that the soil literally acts like a sharp knife cutting at each fiber, along with the dirt and soil will make those unsightly traffic lanes on your beautiful rug. Using fiber protection can help with this and Rug Cleaning Jacksonville Fl is the place to call. Not only does it protect from spills but also the wear and tear of the fiber, prolonging the life of your precious area rug for years to come. Don't forget to call Area Rug Cleaning Jacksonville FL today to have the protectant applied during each of your annual cleanings. This protectant is highly effective and can really help to extend the life, look and feel of your rug. Over time, through standard usage, the protectant will eventually wear down. Having the protectant reapplied to your area rug after each professional cleaning service gives your rug maximum protection!
Are you still not 100% sure if getting protectant is the right thing for you? Give us a call and we will be happy to explain even more benefits of adding protectant to your cleaning service. Our oriental rug cleaners provide service in Jacksonville and surrounding areas.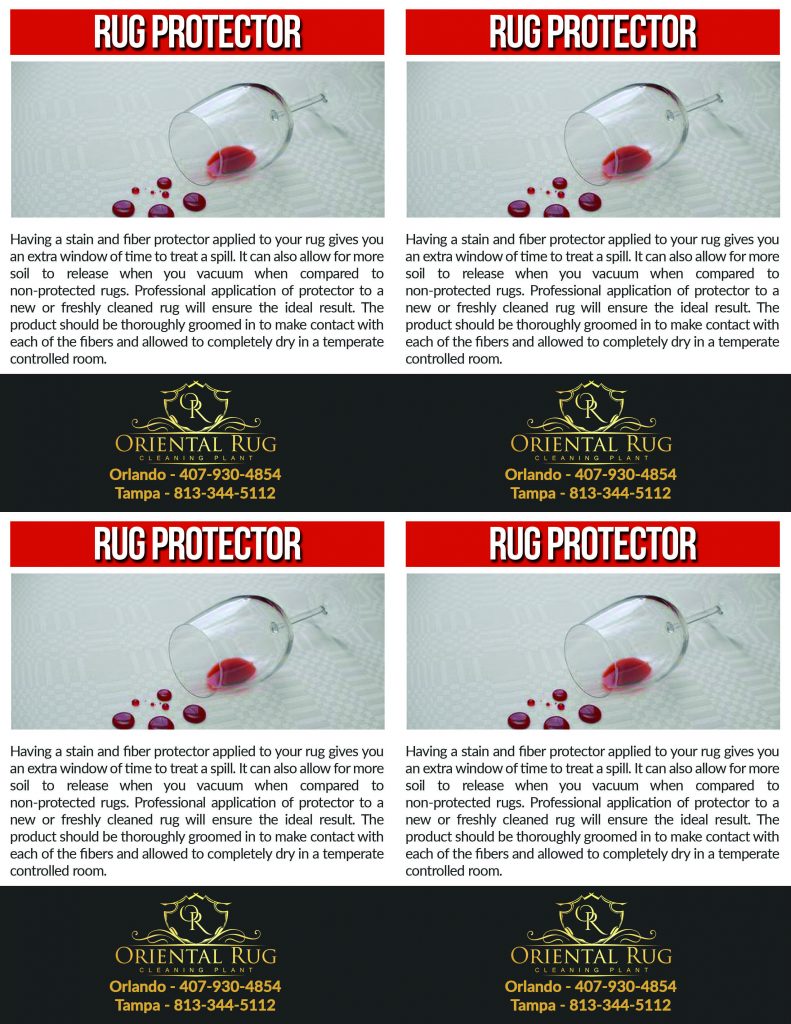 "Do rug protectors work?" The short answer is yes, they do work and no you are not being ripped off when you're being sold protectant. However, these answers come with one big warning: Do you trust the individual who is selling it to you?
Do you trust the individual who is selling it to you?  
Although carpet protecting products do work it is nearly impossible for you as a consumer to determine that on the spot. Do you trust the company or individual who is selling and applying the product? Here at Oriental Rug Cleaning Plant Jacksonville FL we only hire highly trusted individuals that are IICRC certified and have a thorough background check.  We have over 1,200 reviews across the internet for our impeccable work and our consumer can trust us 100%.
How do carpet protecting products work?
When you think about it, carpet is an amazing product in the sense of its wear and stain resistance. What other fabric could withstand years and years of drink spills, food, being stepped on and numerous other abuses inflicted onto it and still come out looking like new after a thorough, professional cleaning? The main part of this is the protectant, without it the rug would not withstand the abuse.
What benefits do I get from re-applying the oriental rug protector?
Say you bought your carpet about two years ago and you've had your fair number of spills. You were successful in getting them cleaned-up, however your carpet is showing some traffic areas and some of your spot clean-up areas have re-soiled. It's time to call a professional to get your carpet thoroughly cleaned. The good news for the professional is that most carpet have carpet protector on their fiber which makes them usually clean-up really well. You see the protector acts like a shield between the spots, spills and soil and the actual carpet fiber. Once all the grime has been washed off the carpet fiber it's returned to virtually "as-new" condition.
Like periodically waxing your car, re-application of Rug Protector after cleaning is a must.
The combination of the spill and spot cleanups and all the heavy foot traffic and soil your carpet has been subjected too over those years will weaken and diminish the protective properties of your carpet. Let's think about your car for a moment. Wax is the protective shield between the environment and your cars paint. Waxing your truck or car will keeps its paint in tip-top shape and will prevent everyday grime from ruining it. Same is true for your carpet.
Rug fiber protectant can add an extra layer of protection to both clean and dirty carpets, area rugs, and furniture. Using improper cleaning products or methods can significantly compromise indoor air quality, making it even worse than the pollutants outside.
Are you still not 100% sure if getting protectant is the right thing for you? Give us a call and we will be happy to explain even more benefits of adding protectant to your cleaning service. Our Jacksonville rug cleaners provide service in Jacksonville and surrounding areas. Call today