Area Rug Cleaning St Augustine Fl
If you are looking for an area rug cleaning St Augustine service that truly appreciates its customers, look no further, as you have found us! As we take absolute pride in our ability to provide our services all throughout the greater Jacksonville area, we sure do love our stops in the beautiful city of St. Augustine! From the beautiful views, to the historic landmarks and the friendly residents, our technicians are always happy to perform pickup and delivery services in this wonderful area!
Local Area Rug Cleaners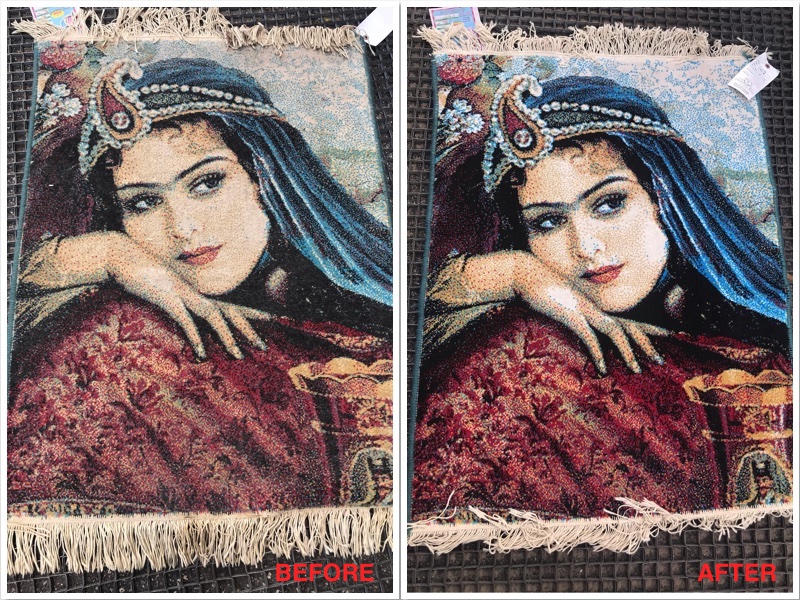 As a local company, we appreciate the deep history encompassing the city of St. Augustine. Dating all the way back to 1565, St. Augustine was founded by the Spanish and was originally considered to be a territory of Spain, as was the entire state of Florida. In 1819 Spain ceded Florida to the United States. St. Augustine was actually named the state capital of Florida during the year 1821. St. Augustine enjoyed the title of Florida state capital for 3 years, until it was moved to Tallahassee in 1824. The history of St. Augustine Fl is deep, from its early times when Juan Ponce de Leon searched for the fountain of youth, to Fort Matanzas and Castillo De San Marcos, to its historic battles that took place between the Spanish and Caribbean Pirates. We adore and appreciate everything this city represents and contains and we are happy to be your Oriental Rug Cleaning St. Augustine locally preferred rug washers!
Oriental Rug Pickup & Delivery
We know that our pickup and delivery visits are pretty much the only personal interaction you will have with our staff, so we make sure to have nothing other than the friendliest and most helpful area rug pickup and delivery technicians visiting all or our St. Augustine customers, along with our other service areas throughout the greater Jacksonville area. Whether you are speaking to a member of our office staff over the phone or by messaging, you are speaking with our pickup and delivery team members, or even speaking directly with our head rug technician, you will be met with friendly staff who is ready and happy to answer any questions you might have. When our pickup and delivery team members visit your home in St. Augustine, they will be there to help in whatever way they can. We always send two team members out for all pickup and delivery appointments. This way, they can help to move some lighter, movable furniture if needed. They can also, together, handle any size rug that needs to be removed or replaced within any area of your home. We make it our absolute goal to ensure each one of our beloved St. Augustine rug cleaning customers enjoys an easy, carefree experience.
Professional Handling and Care of Your Area Rug 
When we bring your nice area rug back to our facility for service, it will be treated with care and caution, as if it were in our own family for generations. We understand that many of our customers have a personal connection to their rugs and we show the utmost respect for each and every one of the rugs we service. This appreciation for our St. Augustine rug washing customers' rugs is evident in our first step, which is a thorough, detailed inspection by our head rug technician. It out head rug technician notices anything that should be addressed or has any questions for you about your rug, he will reach out during the inspection process to discuss. We are big on open and honest communication, as we believe that is key in creating the perfect customer experience! Once we begin the cleaning process, your rug will first be dusted. This process lightly beats the back of the rug, effectively knocking out most of the loose debris. Dusting is similar to what vacuuming does, but a thousand times for effective. After dusting, your rug would go to the wash floor. If your rug needs our Guaranteed Odor Removal treatment, it would then go into the bath. This treatment is a full submersion (meaning the entire rug is submersed) and will completely remove the urine, as well as any odor associated. Once the submersion odor removal treatment is complete, the standard immersion wash begins. If your rug does not need the odor treatment, we would jump from dusting to the immersion wash. During the immersion wash, the rug is flushed with cool, flowing water. One of our technicians will then apply a solution specifically for the type of rug we are servicing. After the solution application, the fibers of the rug are agitated. Agitation opens up the fibers so that the solution can collect all the attached debris, allowing the cool water flushing over the rug to carry the debris and other contaminants away. After the wash, our centrifugal drying process safely and rapidly removes almost all of the water within minutes. The remaining moisture will evaporate while the rug is on our customer built finishing dry racks. Any touchup services would be performed before the final inspection. Once signed off, we will contact you and schedule your delivery!
St. Augustine Customer Experience
We appreciate each and every one of our customers, as well as the cities they are located in! St. Augustine is one of our favorite places to perform our pickup and delivery services, not just due to the abundance of wonderful customers we encounter, but the added view of the area makes for a very nice ride for our pickup and delivery technicians. We put a lot of effort towards making sure all of our customers experience a nice, smooth process from beginning to end of their service. We offer a variety of ways to contact our friendly, informative team members in an effort to make is easy for your to reach out in which every method you prefer. Whether you call our office, send an email, send a text, fill out a content form on our website, or use our live chat option on our website, you will be speaking with one of our staff members who would love to help in any way they can. You can reach out to set up a cleaning service, or simply ask a few questions and you will experience the same helpful, happy interaction. The same goes for your pickup and delivery appointments. Our technicians who perform pickup and delivery services are just as friendly and helpful as our office staff. You will always have two technicians who are there to remove your rug in a nice efficient manner, so we can get it back to the facility and begin the process. Once complete, our friendly rug technicians will deliver the rug and will help to place the rug in your preferred location. We honestly believe that customer satisfaction is achieved by providing an overall wonderful customer experience. Our efforts will always go towards both performing the best cleaning service possible, as well as making that service smooth and stress free!
If you are searching "area rug cleaners near me" and you live in the beautiful St. Augustine area, chances are, you will find us easily! We are proud to be the preferred St. Augustine Oriental rug cleaners and we look forward to many more years of providing the area we love with our high quality service and impeccable customer experience! CALL TODAY with any questions you have or to schedule a service!