Just because we are the professional Jacksonville rug cleaning experts, does not mean we are a large chain corporation! We are actually a family owned and operated, locale business that focuses our efforts on providing our customers with a fantastic overall customer experience! A main focal point of every one of our team members is to ensure that they are being as helpful and friendly as possible. Whether it is one of our wonderful office team members or one of our skilled Jacksonville area rug cleaning technicians, you can be sure you will be greeted in a warm and welcoming manner. While we perform an abundance of technical training for our staff, we also make sure to conduct plenty of customer service training procedures as well. We know that each customer is expecting a top notch, high quality service for their high end oriental area rugs, but we also find it incredibly important to provide each and every customer with an easy and memorable experience.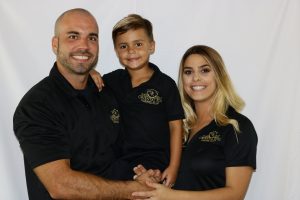 As a service providing company, we understand that it can be difficult to find the right service provider for your needs. A simple search online for area rug cleaning near me can flood your web browser with an abundance of options. The trick to finding the right provider for you is to look for reviews. There are a few platforms that can provide you with plenty of reviews that you can read through to help determine the company that is right for you. Performing a Google search with area rug cleaning near me, will give you plenty of options, but Google also provides their own customer reviews. Other sites, such as Facebook, Yelp and Angie's List can be very helpful in finding the best company as they collect and show honest customer reviews. If you can find a company that provides the services you are looking for, in your area, on one of these platforms, there is a good chance you will find a bunch of reviews that can help to show you if this company typically provides a satisfactory service for it's customers. An abundance of positive reviews will typically let you know that you can be comfortable and confident that you are going to receive a good, honest service. Our Oriental Rug Cleaning Jacksonville company has an abundance of positive reviews online, across many platforms. We are very proud of these reviews, as they are a testament from our beloved customers to the service we provide. As mentioned earlier, we take great pride in providing a positive overall customer experience, from the moment you contact us, till the moment your rugs are delivered back to you! We even call each and every one of our customers to follow up with their service and ensure satisfaction. In the incredibly rare case that there is a customer concern, we are going to do what we can to swiftly and easily rectify whatever the situation may be.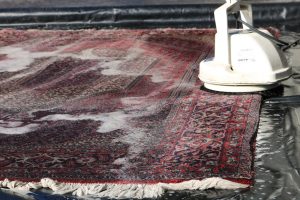 We even make it a point to make contacting us simple. All inquiries are welcomed, whether you are wanting to schedule yourself with a pickup for your Oriental Rug Cleaning Jacksonville, FL service, or if you just have some questions for us. You can call our office at 930-900-4770 and speak directly with a friendly member of our office staff who is always standing by and eager to help. If you your question were a bit too technical for our office team members, the Jacksonville Area Rug Cleaning head technician would be happy to come chat with you himself. If phone calls are not your preferred method of contact, there are plenty of other options available. We also accept text messages that we can respond to. You can text the office number with a picture of your rug or rugs, along with any questions you may have and a member of our office staff will be happy to respond with as much information as they can possibly provide. We offer instant quotes through our text messaging system. You can even schedule your pickup appointment for your oriental rug cleaning service right on your phone by simply texting our office! If you visit our website OrientalRugCleaningSpa.com you will find a couple more options for contacting us. One option that will stand out is our live chat service. Anytime you are on our site, during normal business hours, there will be a live member of our team available to chat with you right then and there! Look for the little chat bubble on the lower left portion of the website and click on it. As soon as you open the live chat bubble, you will be connected to a team member ready to answer any questions you have, or schedule your area rug cleaning service. You will also find our inquiry page where you can type your question, a return email address and click send. Our office will receive your message and get back to you promptly. Similar to the inquiry page, you could email us directly at JacksonvilleRugCleaning@gmail.com and we can respond as soon as our office receives it. It is our goal to make every aspect of our experience with our company as easy as possible!
We are highly rated and well known in the Jacksonville area for the wonderful services we provide to all of our customers in this beautiful area! It is even easy to find us online. If you cannot remember the name of our website (OrientalRugCleaningSpa.com), you can type in something as simple as "Oriental Rug Cleaning Near Me" or "Area Rug Cleaning Jacksonville" and we will pop up in your browser, not just as a paid advertisement, but as an Organic Listing! That means our site is visited so frequently by inquisitive area rug owners who love to learn something new, ask questions or schedule services. Our website itself is full of wonderful, helpful information. We have blog posts and demonstration videos to help you find the answers you need. Our video demonstrations are extra helpful, as they show you behind the scenes of our production. You can see how our services work, so you can get a really good idea of what processes will be performed on your rug.
Never hesitate to reach out to us, your local Jacksonville Oriental Rug Cleaners with any questions you could possibly have! We are here, ready and eager to help resolve your inquiries or schedule your service! Call today (930) 900-4770